Why Does Hames Homes Fly the POW/MIA Flag?
April 26, 2023
Hames steadfastly flies "You Are Not Forgotten" to honor service members still missing.
---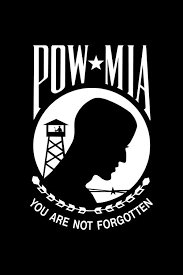 After Hames Homes founder and U. S. Army Veteran, Curt Hames, passed away in 2017, his son Troy Hames chose to fly the Prisoner of War (POW)/Missing in Action (MIA) flag at Grand View and Summit View manufactured/mobile home communities. The flag, which features a silhouette of a man's bowed head with a barbed wire fence and a watchtower in the background, honors the 1241 unaccounted-for POW/MIAs left from the Vietnam War.
"There were 2,000 in Vietnam and only seven hundred have been repatriated. Can you imagine being a son, daughter, or wife not knowing where your dad or husband was and if he was ever coming home?" said Troy Hames, the company's Vice President and General Manager. "I have also talked with several residents, especially veterans, that really like that we honor these soldiers."
Some manufactured home buyers have indicated they feel safer living in a Hames community because of the patriotic acknowledgement.
"It is definitely a symbol of vigilance and remembrance for all POWs and MIAs. All of us in the Hames family love our country and this is another way we honor it."
When you come to look at first-class manufactured homes for sale, you will see the POW/MIA flag flying, along with the Stars and Stripes and Iowa State Flag.
Hames – The Homes People® is open 7 days a week at 5410 Wabash St. SW, Cedar Rapids.
Online: www.HamesHomes.com
Phone: (319) 377-4863
---
Loading Conversation