Our History
From Shabby to Respectable - The Hames Legacy
Curt and Norma Hames - The Homes People, founded one of the most recognized and respected housing brands in Eastern Iowa.
Honors Project by Kelly Bryant
---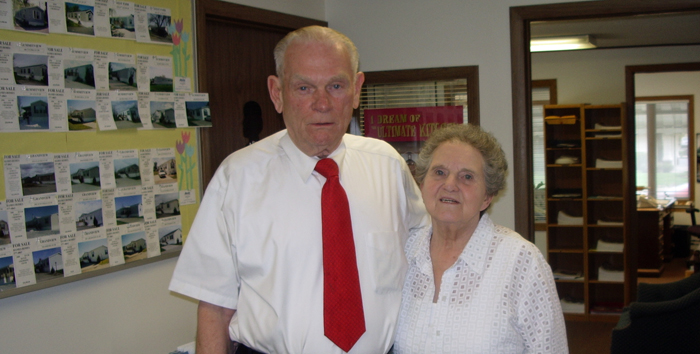 Hames Mobile Homes, Inc. (now Hames Homes LLC) is a family-owned manufactured housing[i] business headquartered in Cedar Rapids, Iowa. The company originated as a franchise in 1969 under the business name of Homestead Mobile Homes. The President, Curt Hames, and the Vice President, Norma Hames, purchased the franchise from Brown Enterprises of Joplin, Missouri. With Brown's assistance, Curt and Norma were able to establish their first sales center at 640 Marion Blvd. More than forty years later, Curt and Norma Hames- more commonly referred to as "Hames – the Homes People" have been revolutionizing the manufactured housing industry by advocating for new safety laws, providing affordable housing for thousands of Iowa citizens, and serving as a source of inspiration for other family-owned businesses in their community.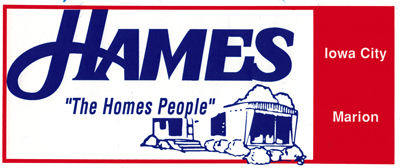 Curt and Norma Hames met in Fort Leonard Wood, Missouri in 1955 at a base for the US Army when Norma was a Corporal. They were married in 1957. Before starting their own business, Curt and Norma and their children – Troy, Barbara and Cynthia – did a 2 year tour of duty in Bangkok, Thailand during the Vietnam War. After Curt retired as Command Sargent Major in 1969, Curt used his family ties in southern Missouri to partner with an old friend who was looking to franchise a mobile home dealership. Curt accepted the offer and moved him, his wife Norma, and their three kids to Marion, Iowa. While Curt and Norma always shared a passion for providing working class families with safe, affordable housing- they wouldn't realize until much later how greatly they would end up impacting their new community.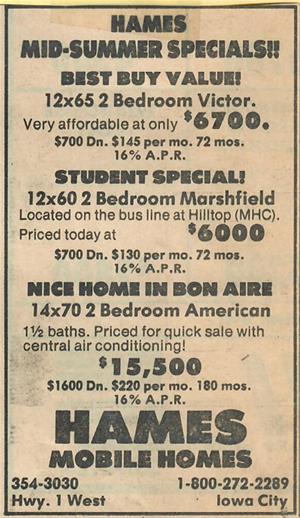 They used the $25,000 they had saved in the military and created Homestead Mobile Homes, which later would become Hames Mobile Homes. Having never worked in the housing industry (let alone start their own business), the odds were certainly stacked against them. A dozen or more "trailer dealers" already existed in the surrounding area and many businesses blatantly told Curt and Norma they were clueless and had no chance at success. Unfortunately, mobile home dealers were rather disreputable at the time. Most were closed on Sundays and through most of Iowa's harsh winters; a rather large span of the year considering Iowa's reputation for blizzards and below-freezing temperatures in November through February. When the other local dealerships were fully operating, many sellers were solely interested in making sales, not taking the time to match their customers with the right homes, a process Curt and Norma have always placed incredibly high value in. To put is simply, existing mobile home retailers had no problem sticking by their current status quo insisting, "We've always done it this way."
Although the power couple started their business with limited credit and absolutely no respect as business people, the ex-military transplants refused to back down from their fellow competitors and challenged the manufactured housing industry head-on. In June of 1971, the franchise disbanded 'Homestead Mobile Homes' and re-created their new brand: Hames Mobile Homes, Inc., which would ultimately bring them an abundance of success. Approximately one year later, in July of 1972, their second sales center was opened in Hiawatha, Iowa. That same year, Curt became the Vice President of the Iowa Manufactured Housing Association (IMHA) after he realized the need to convince bankers, suppliers, his fellow manufactured housing professionals and the general public, that this style of housing was not only safe, but also highly regarded. Curt and Norma worked tirelessly to influence laws concerning almost every aspect of manufactured housing and ultimately, helped alter the image of the industry completely. While these changes were considered radical forty years ago, today they serve as the standard for all mobile home businesses.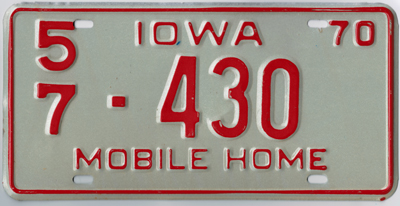 Curt Hames was elected President of IMHA where he did not hesitate to put his newly achieved influence and ability to produce change to good use. Due to the fact that mobile homes were considered "vehicles" in the early 1970's, dealerships were not allowed to be open on Sundays. Curt and Norma communicated relentlessly with the Iowa legislature to allow manufactured housing customers the right to shop for a home any day they wanted, a simple but much-needed law that placed manufactured housing sales associates and relators on equal playing field. Hames Mobile Homes also became the first retailer to hook up LP lines, and then natural gas lines, into model homes so they could be heated. As mentioned earlier, many mobile home dealers fled south during the winter since it seemed no customer wanted to look at homes in the cold. With a large amount of dedication coupled with a strong desire for change, Curt helped implement this new advancement which put mobile homes back on the market year-round; a huge milestone for the entire industry. However, their progress was not just limited to the interior of the home; Curt and Norma were also able to ensure that manufactured homes no longer had to display a license plate in the front of the window. Eliminating this unfortunate aesthetic feature made the home feel more inviting for their residents. The power couple truly embraced every obstacle they encountered with an open mind, proving the importance of persistence in their grand scheme to reinvent the way society viewed their profession.
Although Curt and Norma Hames were not able to alter every aspect of mobile homes to their liking, their efforts in the transportation sector of the industry are greatly appreciated and hard to miss. When Curt began his term as President of IMHA, only 12-foot wide mobile homes were allowed to be transported on Iowa highways; a huge disadvantage for the manufactured housing industry as most mobile homes were then designed 2 feet wider. At the time, Iowa was the only state that didn't allow 14-foot movement. In fact, an editorial on a local news station showed a cartoon of a 14-foot wide mobile home blowing a little compact car off the road. Clearly fueled by society's misjudgment, Curt stepped in and worked with the legislature and former Iowa Governor, Robert Ray, to sign a new law allowing 14-foot movement on all Iowa Highways. As mobile homes have continued to grow in size, Curt and Norma were constantly working with the Iowa Department of Transportation and Iowa legislature to brainstorm solutions for the most secure way to move all types of oversize loads. Their determination did not go unnoticed and they have been personally thanked by a wide variety of business owners in the state of Iowa.
As Hames Mobile Homes, Inc. continued to expand, they opened a third sales office in Iowa City, Iowa in July of 1974.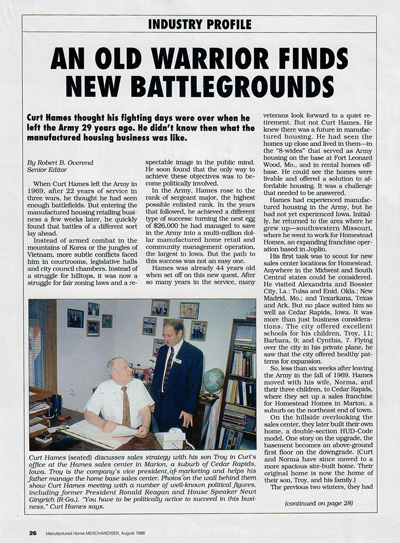 Curt and Norma's son, Troy C. Hames III, joined his family's business as Vice President and Sales Manager after graduating from college in 1981. He too, joined the Iowa Manufactured Housing Association where he served as both Vice President and immediate past President. Troy is not the only Hames descendent to follow in his parent's footsteps; sisters Barbara and Cynthia Hames also call themselves proud employees of the family business and serve as Hames Mobile Homes Vice President of Administration, and Loan and Titling Specialist, respectively. Although they have some incredibly large shoes to fill, it would appear the Hames siblings have worked hard to maintain the legacy their parents created while continuing to expand and improve the company at every possible opportunity.
In order to sell homes, the Hames family knew that there needed to be safe, comfortable, affordable neighborhoods in which to put them. In 1972 Hames Communities purchased West Park Mobile Home Village, which was built in the 1950s, in southwest Cedar Rapids. In 1987, Hames purchased Lincoln Way, which then became the West Park Annex.
In 1973, Hames purchased Sunrise Village in Iowa City and in December 1978, West Branch Village.
In 1990 the Hames family took the first step to begin a new community and the first home was placed in Summit View in late 1990.
In 1996, Hames Homes announced the opening of their fifth manufactured home community in Iowa; this milestone made Hames Communities the largest privately held manufactured housing community operator in Iowa. All 5 communities are managed by local managers who take a hands-on approach to owning and operating their offices in such a way that their residents' welfare always remains their number one priority. Within each community one can expect to enjoy well-maintained streets, storm shelters for Iowa's tornado season, common area maintenance, on-site management, green parks, and numerous planned activities for all residents. Such activities include holiday parties, annual yard sales, and summer programs for children.
Rather than providing rows of 12 foot wide "trailers" with unpleasing dark wood paneling, Hames now offers three and four bedroom homes up to 2400 square feet, truly designed to accommodate any individual or family. Hames Mobile Homes takes great pride in the fact that they have taken what were once "trailer courts" or "mobile home parks" and transformed them into spacious, friendly "manufactured home communities" that ensure their residents get the most out of their living experience. It is no surprise then that Hames Communities was ranked as a top 100 manufactured home community owner in North America in 2014 as stated by the Allen Report, a nationally-recognized publication for the manufactured housing industry.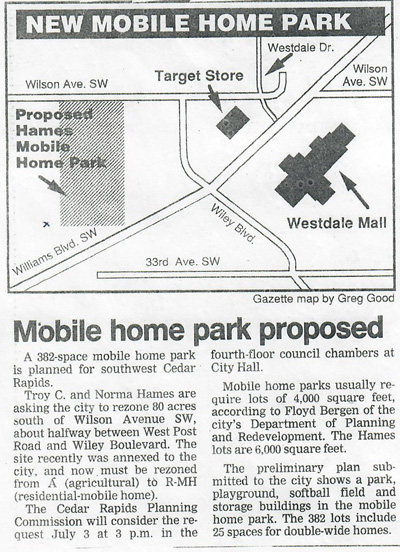 This past year, The Homes People were proud to announce the addition of Troy "Curtis" Hames, IV to the sales staff at Hames Mobile Homes in Marion, Iowa. Curtis Hames IV, son of Troy C. Hames III, is a 32-year-old graduate of Cornell College in Mt. Vernon, Iowa. With a degree in Political Science and six years' experience in customer service and logistics, the Hames team truly sees him as a perfect fit into the Hames Mobile Homes family enterprise. As the grandson of Curt (whose full name is Troy Curtis Hames, Jr.) and Norma Hames, founders of Hames Homes, the family-owned business now has all three generations of Troy Curtis Hames working together; quite an accomplishment for the now 90-year-old President who started the business from nothing but a little passion.
Today, Hames Mobile Homes has sold over 11,000 manufactured homes and plans to continue increasing that number. They are among the 12% of family-owned businesses that successfully represent three generations and fully plan for the tradition to continue on. Hames Mobile Homes also has a successful website: hameshomes.com, where Barbara Hames writes a monthly blog keeping her viewers up to date about the history of her family's company, tips and trick about purchasing and financing a manufactured home, and the latest news from inside the communities. Overall, the company has come a long way in its 46 years of operation. Most of the original dealerships that predicted its failure are no longer in business.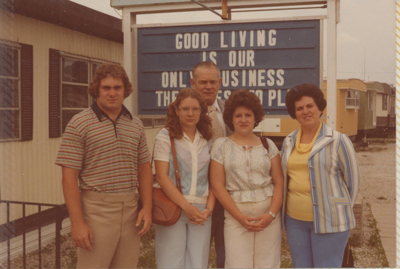 Curt and Norma have been married for 58 years and continue celebrating the success of their multi-million dollar company, primarily, by giving back to the community. In 2014, they donated to local substance abuse treatment programs, food banks, homeless shelters, and pregnancy support centers. They are also active members of their church and give back to many of the schools that their children and grandchildren attended including the University of Iowa. Together, they have received many awards for their sincere leadership qualities including the IMHA Hall of Fame, the Lincoln Leadership Award, the John C. McDonald Service Award, and the Linn County Republican Hall of Fame.
The power couple's mindset that working hard and taking risks leads to success is the main reason why, "Hames- The Homes People" is one of the most recognized brands in Eastern Iowa. The Hames family has all had a hand in starting no fewer than four successful new businesses including Hames Insurance Agency, Inc., Hames Properties LLC, Gardenview, Inc. and Circle Finance LLC. Curt and Norma owe their success to the strong moral values that they have instilled within themselves and their children. For example, each year, they host a seminar for (competing) dealers, owners, and managers to learn updates about the industry. Although some would consider this a poor business decision, this event helps ensure every citizen has the right to safe, affordable housing; the most important aspect of their business. The Hames team has successfully weathered the ups and downs of the economy and is certain their family-first philosophy will keep Hames Mobile Homes thriving for many years to come.
Works Cited
Mobile home sales. (n.d.). Retrieved March 22, 2015, from https://www.hameshomes.com/Content/About-Us.aspx
Hames-Bryant, B. (2015, March 21). [Personal interview].
Hames, N. (2015, March 21). [Personal interview].
Mobile home parks Cedar Rapids, mobile home parks West Branch, mobile home parks Iowa City. (n.d.). Retrieved March 22, 2015, from https://www.hameshomes.com/Content/Our-Communities.aspx
Hames-Bryant, B. (2015, February 13). Hames - A Top 100 Community Owner -. Retrieved March 22, 2015, from https://www.hameshomes.com/Blog/20150213/36/Hames-A-Top-100-Community-Owner.aspx
Hames-Bryant, B. (2014, May 13). From Shabby to Respectable...Mobile Homes Since the 1970s -. Retrieved March 22, 2015, from https://www.hameshomes.com/Blog/20140513/25/From-Shabby-to-Respectable-Mobile-Homes-Since-the-1970s.aspx
Hames-Bryant, B. (2014, March 5). Three Generations of Hames-The Homes People -. Retrieved March 22, 2015, from https://www.hameshomes.com/Blog/20140305/20/Three-Generations-of-Hames-The-Homes-People.aspx
About Us - Iowa Manufactured Housing Association. (n.d.). Retrieved March 22, 2015, from http://www.iamha.org/us/
[i] The definition of "mobile home" is factory-built dwelling, without motive power, used for human habitation and built before June 15, 1976 when the Manufactured Home Construction and Safety Standards (HUD Code) was enacted. Since June 15, 1976 factory built homes, built to HUD code, are called "manufactured homes". In this paper, however, the terms are used interchangeably.