Taking the Mystery Out of Mobile Home Titles
November 9, 2018
Mobile homes are built from the same materials as site built homes, but they're titled like a car. That's a good thing.
---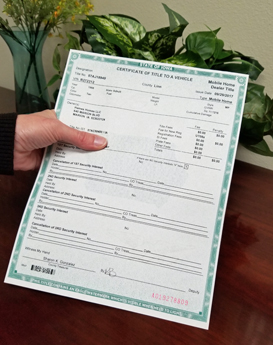 All new manufactured homes - we'll use the term "mobile homes" here, since most folks still call them that - come from the factory with a document called a Manufacturer's Certificate of Origin or MCO. Mobile homes have a VIN number, like a car, which is a good thing that we'll discuss later. A double-wide mobile home has the letters "AB" at the end of the serial number to show there are two sections.
When a mobile home for sale is purchased, the dealer converts the MCO to a "title". In Iowa this is done at each county's Department of Motor Vehicles. At Hames-The Homes People® the cost of obtaining a title is included with your purchase and we handle all this paperwork for you.
If the buyer has a loan, the lien is recorded by the county treasurer on the title. The title is then sent to the bank/lender an kept there until the mortgage is paid off.
If you own the home outright, you should keep the title in a safe place.
The title shows the current owner(s) of the mobile home, previous owner(s), manufacturer, square footage, color and year. Any time ownership is transferred the title MUST be moved from one party to another to avoid tax problems and legal issues.
Note: For multiple owners, it's important to notate "and" or "or". If the title says "and", ALL owners must sign the back of the title to sell it. If the title says "or" any of the listed owners may sell the home or transfer the title.
Even though mobile homes are built with the same building materials as site-built homes according to a rigorous federal standard, it's advantageous they're "titled" instead of deeded like real estate for two reasons:
Abstract searches, deed warranties, and other ownership transfer requirements for real estate takes weeks or months and can cost thousands of dollars. Mobile homes are considered personal property so transferring the title costs $25, plus $10 if a lien is recorded, and can be done in a few days.
Clearly, the manufactured housing lifestyle is better! If you're looking for quality, affordable and low-maintenance mobile homes for sale, visit Hames Homes at the corner of Wilson Ave. and West Post Rd. SW in Cedar Rapids. Or, view our model homes online.
If you're selling your home, we'd love to talk to you. Hames has a listing service to market your home for you. It's easy! We handle the calls and the paperwork, so you can sit back and relax.
#DontCallItaTrailer
---
[i] Property tax on the land itself is paid by the landlord and is included in your monthly home site rent.
[ii] Based on 2017 levy of $21.71 (after rollback) per $1000 of assessed value.
​
---
Loading Conversation