Summit View Receives Neighborhood Award
January 6, 2021
Hames' Summit View manufactured home community was humbled and honored to receive recognition for its post-storm neighborhood cleanup efforts.
---
After the devastating August 10 Derecho storm in Cedar Rapids, Westdale Area Neighborhood Association (WANA) members toured southwest Cedar Rapids area neighborhoods multiple times. They were impressed with how quickly Summit View Village was restored after the 140 mile per hour wind storm damaged roofs, siding, skirting, decks, and trees. Immediate and ongoing repairs by Hames staff, contractors, and volunteers continued during every daylight hour for almost 3 months to restore Summit View's safety and livability.
Presented by Juan Ignacio Llanos, WANA Secretary, and Monica Vallejo, WANA President, to Troy Hames, owner and General Manager of Hames Homes, the Certificate of Recognition reads:
"In 2020, we consider Summit View Village one of the most organized and cleanest places to live in our area. Your work has improved the quality of life for our Westdale Area residents and instills a sense of neighborhood pride. The Westdale Area Neighborhood Association congratulates you on your achievements during a difficult year and looks forward to your future endeavors."
WANA is a non-profit organization whose mission is to improve the sense of safety in the Westdale Mall area, help residents to feel empowered, encourage healthy conversations between neighbors, and connect the diverse community together. WANA also organizes different events throughout the year including holiday celebrations (like Trunk-or-Treat), an annual backpack drive in August, educational programs, and a community cleanup day.
Hames Homes has always had great manufactured homes for sale. We're honored to be appreciated for our Summit View community, too. View our available mobile or manufactured homes for sale on our website.
Contact us online or visit us at 5410 Wabash St. SW, Cedar Rapids and let us show you your next home!
#HomeSweetHames
#DontCallItaTrailer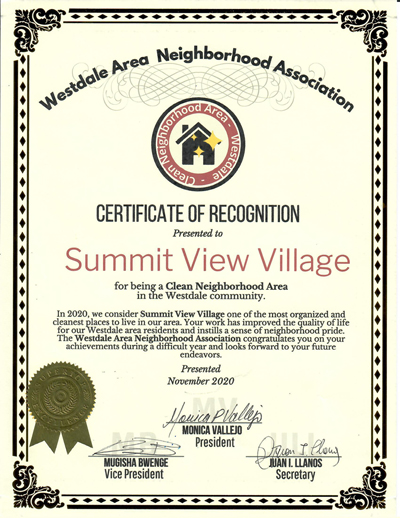 ---
Loading Conversation