How Will COVID-19 be Remembered?
April 27, 2020
Friendly neighborhoods are part of the Hames tradition. Many of the 938 families living here have risen above the COVID-19 tragedy by publicly sharing encouraging, thoughtful messages for everybody.
---
How will the history books remember the COVID-19 virus crisis? The shops that are closed? Employees unable to go to work? Endless hours of bad news on TV?
Troy Hames, co-owner of Hames Homes LLC, who exercises regularly by walking through Grand View and Summit View manufactured home communities, snapped pictures of inspiring signs: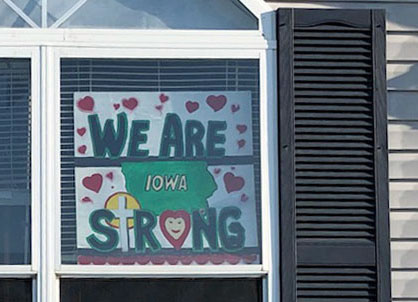 We are Iowa Strong
COVID-19 will not stop me from loving you
Alone Together
God bless the world
Have Faith & Hope
These notes bring light and hope to our surroundings and let us know we're not alone. Have you done something special for a neighbor, friend or family member? "Comment" below and let us know! We'll compile and publish your ideas.
Even during pandemic times, folks still need safe, affordable housing. Hames Homes is open at 5410 Wabash St. SW in Cedar Rapids – using COVID-19 precautions, of course - to help those looking for manufactured or mobile homes for sale, inquiring about loans, insurance issues, and warranty work requests.
Call Curtis or Clint at (319) 377-4863 or contact us online to set up an appointment.
Live Healthy and Stay Strong!
#HomeSweetHames
---
Loading Conversation