How to Read a Data Plate
September 25, 2019
Inside every manufactured home is a "data plate". It's not actually a plate, but rather a sheet with important information about your new mobile home and how it was built.
---
As required by the Department of Housing and Urban Development (HUD), manufacturers must include the data plate, which provides useful information in a standardized format. It could be located on the wall of the master bedroom closet, at the electric panel, or the inside of a kitchen cabinet door.
Let's walk through an actual data plate together. This one is inside a new Mohave Adventure double sectional home in Grand View. Looking at the data plate from top to bottom, left to right:
Manufacturer and Location
In this case, Adventure Homes in Garrett, Indiana.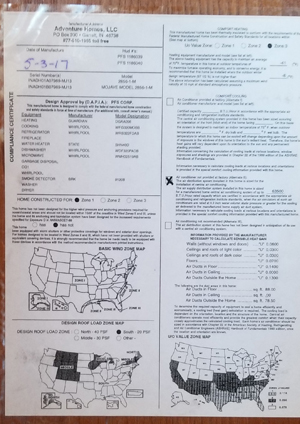 Certification Label Numbers
Also called HUD tag numbers, are affixed to each transportable section of the home. There's one number for a single-wide, two for a double-wide.
Construction Date
This home was built on 5/3/2017.
Note: This may not be the same as the model year. Check the Manufacturer's Certificate of Origin (MCO) for the actual model year.
Serial Numbers
For double-wide mobile homes, each "section" has the same serial number. One section will have an "A" after the serial number, and the other will have a "B".
Factory Installed Equipment
If you look at nothing else, take a look at this table! It lists the factory installed appliances and equipment, the equipment manufacturers, and serial numbers.
· For a new manufactured home, you'll need this information in case you need warranty repairs.
· For a pre-owned home, you can compare this list to the actual appliances to determine if they were installed at the factory, or replaced later.
Roof Load Zone
Homes located in northern roof load zones are built to allow for the weight of snow. Compare the roof load zone box checked with the adjacent small U.S. map to confirm that the home meets the standards of the installation location. Depending on northern vs. southern Iowa, mobile homes are built for either middle or south zones – 20 to 30 pounds per square feet of snow pressure.
Wind Load Zone
Zones are designated as I, II, or III—with II and III zones constructed to withstand different levels of hurricane-force winds. Here too, compare the wind load zone checked with the adjacent map to verify construction for the proper location.
Iowa is in wind zone I, which means we're not in a hurricane zone.
Comfort Cooling
If an air conditioner was installed at the factory, this information will be filled out. Otherwise, look for a separate document about any air conditioning unit(s) installed with the home.
Heating and Cooling Thermal Map
This code indicates the temperature zone the manufactured home was built for. Iowa is zone 3, the coldest zone. A home designed for a higher thermal zone number (i.e., colder climate) can be located in a lower zone (i.e. warmer climate), but not vice-versa.
After buying your manufactured or mobile home, do not paint over or remove the data plate. However, moving it to another conspicuous location is OK. This is essential information for the next buyer.
At Hames, we've been buying, selling, refurbishing, listing, titling and servicing manufactured and mobile homes for 50 years. We're the experts in manufactured and mobile homes for sale in Eastern Iowa.
Call Clint or Curtis today at (319) 377-4863 or contact us online and let us show you our large inventory of new and used mobile homes for sale. We'll match you with the right home and talk about financing, too.
#HomeSweetHames
---
Loading Conversation