How to Evaluate a Manufactured Home Seller
January 19, 2017
You know you want to live in a mobile or manufactured home, but how do you know you're buying from a reputable dealership?
---
Here's a checklist to honestly evaluate a mobile or manufactured home dealer:
1. Years in business - longevity counts.
Hames – The Homes People ® has been in business continuously since 1969. Only ethical, reputable companies stay in business that long.
2. Get references and referrals – what do past customers say?
The Hames website www.hameshomes.com has numerous testimonials from satisfied homeowners. Or, visit our sales team Grand View office at 5410 Wabash St. SW – the bulletin board is full of appreciation letters! We've got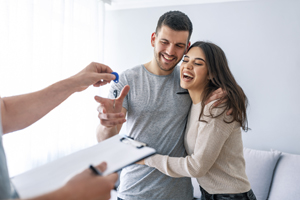 good ratings on all the review websites, too.
3. Evaluate any complaints – are they handled correctly?
Hames Homes, LLC is an A+ rated, accredited member of the Better Business Bureau. That doesn't mean our customers have never complained. It means that when they do, we solve the problem right the first time.
4. State licensure – is the mobile/manufactured home dealer legitimate?
Hames Homes, LLC is a fully licensed manufactured home retailer in the state of Iowa. We also have Iowa-certified manufactured home installers on our experienced service team. Our in-house financing company, Circle Finance LLC, is licensed and registered with the nationwide mortgage licensing system, NMLS#366020.
5. Website transparency – does the manufactured home dealer openly provide the facts?
Prices, pictures, and features for all of our used mobile homes are listed on our website. Hameshomes.com also has an abundance of resource materials, from financing applications, to community rules, to email addresses for our staff. Some material is even available in Spanish.
6. Manufactured home dealer's service department – is it dedicated or out-sourced?
Our in-house service department repairs, refurbishes, and installs all the manufactured homes we sell. Other mobile and manufactured home dealers use subcontractors who may not have the time or the knowledge (or license!) to do a good job.
7. Local Involvement – integrated in the community or just passing through?
The Hames family gives back to the communities in which we do business. We regularly donate to schools, shelters, athletic programs, and many non-profit agencies.
In addition, we are long-term, active members of the Iowa Manufactured Housing Association, Marion Chamber of Commerce, and Cedar Rapids Area Economic Alliance.
After you've done your research, you'll realize that you want to do business with Hames – The Homes People®. Call us today at (319) 377-4863 or contact us online. You'll be glad you did!
#DontCallItaTrailer
---
Loading Conversation