Hames Recognized for Food Pantry Success
May 30, 2023
What started out as emergency help during the 2020 Derecho natural disaster and aftermath, is now a well-stocked, accessible Food Pantry that takes up half the Summit View office.
---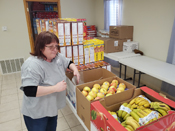 Hames – The Homes People® accepted the "Connect for a Cause" Award from Corridor Business Journal for operating an ongoing Food Pantry at Summit View manufactured home community at 100 Hames St. SW. The Partnership Award for Small Business recognition is given each year to a Cedar Rapids area company that:
"…best articulates successful, measurable business outcomes from community service efforts, exemplifying the principle that doing good is also good business."
Hames Community Coordinator, Kelly Hitchman explains, "We saw a continuing need and approached non-profits United We March Forward and Hawkeye Area Community Action Program (HACAP) to start and maintain a Food Pantry. HACAP generously gave us permission to open a pantry at Summit View and taught us proper food handling requirements."
Along with the help of Quaker Oats, the Hames family, and private food donations, the pantry currently benefits nearly 3000 people a month. Dry foods are available as well as milk, bread, meat, pet treats, personal items, and diapers. There are no eligibility requirements to participate.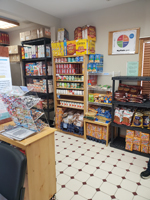 Our Community Garden has also started providing fresh produce to the food pantry (more on that in a future Hames blog!)
Want to live in a community that cares? View our beautiful mobile and manufactured homes for sale at HamesHomes.com. Visit our sales office 7 days a week at 5410 Wabash St. SW in Cedar Rapids, or Click Here to contact us online!
#HomeSweetHames
---
Loading Conversation