Gardening for Good
July 31, 2023
Seasonal fresh produce is available at the Summit View Food Pantry on Tuesdays and Wednesdays, courtesy of Community Garden organizer Leo Broughton and other volunteers. The fresh vegetables are available to anyone who lives in Grand View, Summit View, and surrounding neighborhoods.
---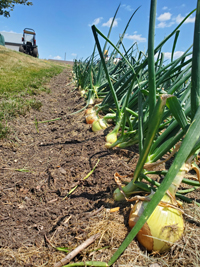 How did this garden come to be?
Kelly Hitchman, Community Coordinator for Hames Homes, received a box of donated vegetable seeds. She knew just who to call. Leo Broughton, Summit View resident, had a big garden at his manufactured home site and a dream of a Community Garden for Summit View Village.
"We had a number of stumbling blocks in the beginning, finding a space to put it and locating a water source," Leo explains. He went to local non-profit Matthew 25, which educated him on the basics of planting and maintaining a garden that big.
With the help of Hames' maintenance crew, Leo and other volunteers created a no-till garden using cardboard, mulch, and grass clippings. This method allows plants to grow with no pesticides or herbicides. "It's not technically an 'organic' garden, but it is a 'no-chemical' garden," he clarifies.
The water problem was solved by creating a modern rain barrel collection system from the roof of a nearby storage building.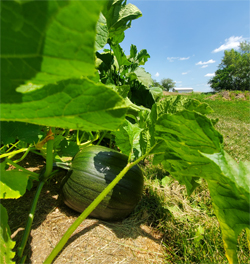 Volunteers help maintain the garden and donate garden supplies like tomato cages and rabbit fencing. They may take home part of the harvest first, and the rest is brought fresh to stock the Food Pantry at 100 Hames St. SW in Cedar Rapids. "The Community Garden and the Food Pantry work hand-in-hand to make food accessible," said Hitchman. " We don't worry about any produce going to waste."
Kelly Hitchman adds, "As soon as the residents know there's fresh produce, they flock in, and it's gone in a couple of hours. Produce in the stores is so expensive and this really helps our residents' budgets."
When asked what's next for the Community Garden, Leo answered, "We hope to make it a 'learning garden' and teach others about seeds and planting."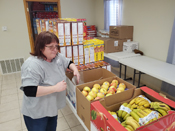 For strong neighborhoods with people who care about each other and the environment, visit Hames-The Homes People® at 5410 Wabash St. SW in Cedar Rapids, 7 days a week. View our large selection of mobile and manufactured homes for sale at www.HamesHomes.com or call our knowledgeable sales professionals Clint or Curtis at (319) 377-4863.
---
Loading Conversation