Ten Reasons Why a Mobile/Manufactured Home is Better than an Apartment
November 30, 2021
Why rent when you can own a home of your own? There's lots of good reasons to choose manufactured housing.
---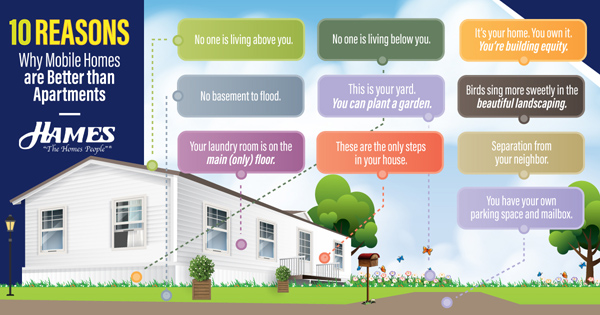 1.           It's YOUR home. You own it. You can plant a garden, paint the walls, decorate the kitchen, and celebrate having a place that belongs to you.
2.           You're building EQUITY. With apartment living, you'll never get back one cent in the rent you paid. In a Hames home, you're making an investment.
3.           You're NOT SHARING WALLS with your neighbors. There's more PRIVACY. Even though we screen every applicant that wants to move into a Hames community, we still think all four walls should be yours. Period.
4.           You have YOUR OWN DRIVEWAY at your home site. No worrying about where you'll park in that big apartment complex.
5.           You can have a GARAGE on the lot that you lease, just a few steps from your front door. Home sites in  Summit View and Grand View in Cedar Rapids, Iowa are large enough for optional 18 to 22 foot garages.
6.           A manufactured home is all on ONE FLOOR. You don't have to climb up three stories to get to your apartment. Homeowners with small children, wheelchairs, and walkers LOVE our homes.
7.           NO BASEMENTS to flood.
8.           NO SCHLEPPING LAUNDRY up and down to the cellar, either. New Hames manufactured homes for sale have utility rooms located on the same level with all your other living space.
9.           Hames communities are LOCALLY OWNED and operated. We care about our residents because we're here. We have on-site management available 24 hours a day, with beautifully maintained parks, playgrounds, storm shelters, and community rooms.
10.        The SUN SHINES more brightly and BIRDS SING more sweetly in a mobile home park -seriously! You have your own yard, flowers, bushes and trees to look at every day.  Who can say that about an apartment?
What's your favorite reason for living in a manufactured home? Why did you choose the manufactured housing lifestyle over apartment or condo living?  Let us know in the comments below. We'd love to hear from you!
​Let us show you the home you've always wanted at a price you can afford. Visit our mobile home sales center at 5410 Wabash St. SW in Cedar Rapids. Call Hames-The Homes People today at (319) 377-4863 or contact us online. 
Hames has new and used 2, 3, and 4 bedroom mobile homes for sale, 1000 to 2400 square feet. Call us today at (319) 377-4863!
---
Loading Conversation