Stuck Inside? Organize!
March 24, 2020
The good thing about mobile and manufactured homes is there's no basement or attic to hide the junk. But clutter can still pile up in closets and corners.
---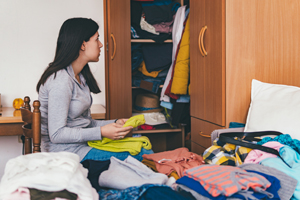 Let's get started.
Start with one room at a time. Put four towels on the floor, not overlapping. Start sorting, and show no mercy.
1. "SELL" PILE
These are items that are still useful, but not necessary anymore. Do you really need two slow-cookers? Outgrown kids' clothes? Pink Cinderella lamp?
Hames' annual Community Garage Sale is a great option for your "Sell" Pile. Residents can display goods in their driveways or garages on Friday, June 12th and Saturday, June 13th. Kids can get involved and make some money, too! This event is always well attended by shoppers outside the neighborhood.
2. "GIVE AWAY" PILE
Not really into garage sales? Local charities love your gently used household stuff and clothing. Goodwill and Salvation Army are two reputable organizations in Cedar Rapids; more can be found on the internet. Many churches will take usable furniture and appliances, too.
For larger items, try www.freecycle.org Just post a picture and description. You'll be amazed at how quickly an old bicycle, basketball hoop, or printer will be snatched up.
3. "THROW-AWAY" PILE
Expired canned goods, torn linens, broken toys (but take the batteries out), bent curtain rods…you get the picture.
To assist our residents with Spring Cleaning, Hames has extra dumpsters at Grand View and Summit View during March and April at no extra charge.
For non-working appliances, used tires, and broken furniture, Hames residents should call their community offices for instructions.
4. "KEEP" PILE
Think about the things you use regularly, like clothes that still fit and dishes that aren't broken. It's OK to keep things for sentimental reasons, too.
Find a way to organize your "Keeps". Clever storage and display ideas for mobile and manufactured homes can be found at: https://mobilehomeliving.org/organize-your-manufactured-home/
While many establishments have had to close temporarily, people still need safe, comfortable places to live. Hames Homes is open for business and there's never been a better time to tour our mobile and manufactured homes for sale.
Call us at (319) 377-4863 or view our large selection of manufactured homes for sale online. Financing[i] is available to qualified buyers!
#HomeSweetHames
​[i] Through Circle Finance LLC NMLS #366020
---
Loading Conversation