A Small Home is Better than a Big Mortgage
May 26, 2020
Manufactured homeowners spend less on housing and more on things they want to do. You can take that to the bank! (Pun intended.)
---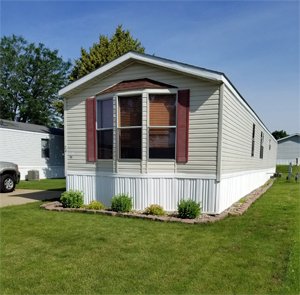 A study conducted last year by Trifecta Research reveals that people who own manufactured and mobile homes have high satisfaction with their homes and have more money in savings.
Here's some highlights from the study:
People love the manufactured housing lifestyle
62% of the 1000 people surveyed by Trifecta said they were extremely satisfied or very satisfied with their manufactured housing choice! The likelihood to recommend manufactured housing was the same proportion.
The days of "mobile" homes are gone. Today's manufactured homeowners plan to stay 10 years or more.
The chance to own a home is a top 2 reason for buying a manufactured home for sale. Manufactured homeowners like the opportunity to build equity, something you can never say about apartment rent.
More Savings
The number one reason for living in a mobile or manufactured home, according to the Trifecta study, is affordability. The average price per square foot of a site-built home is $107. The average price per square foot for a manufactured home is $49.[i]
Property taxes for a 2200 square foot manufactured home in Iowa are no more than $440 per year.[ii] For the same size site-built home, total property taxes are $2751 per year![iii]​
Manufactured home owners are twice as likely to have retirement savings as renters.
62% of manufactured home owners say they're living comfortably or doing OK financially.
Come and visit Hames' beautiful manufactured housing communities: Grand View and Summit View in Cedar Rapids. Tour our wide selection of mobile and manufactured homes for sale at 5410 Wabash St. SW in Cedar Rapids, or contact us for more information!
---
[i] https://www.manufacturedhousing.org/wp-content/uploads/2018/06/2018-MHI-Quick-Facts-updated-6-2018.pdf
[ii] The property taxes on the land itself are already included in the monthly home site rent.
[iii] https://www.hameshomes.com/Blog/20170927/68/-I-want-to-over-pay-for-housing-Said-no-one-ever.aspx
---
Loading Conversation