From Shabby to Respectable…Mobile Homes Since the 1970s
May 13, 2014
Curt and Norma Hames "The Homes People" revolutionized the manufactured and mobile home industry.
---
Troy C. "Curt" and Norma Hames – forever known as "Hames - the Homes People" – started Hames Mobile Homes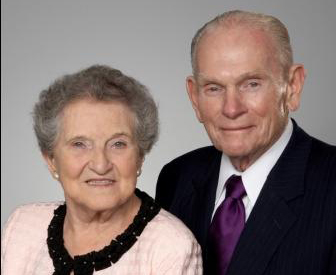 after Curt retired as Sergeant Major from the US Army in 1969. With family in southern Missouri, Curt connected with a friend who was looking to franchise a mobile home dealership. Curt and Norma believed then, as they do now, that there would always be a need for housing for working class folks. Iowa seemed like the right choice. "We never even considered the cold winters," Norma laughs. "We were just looking at good schools for our kids."

They used the $25,000 they saved in the military and started Homestead Mobile Homes, which later became Hames Mobile Homes. Curt and Norma Hames had never run a housing business and never lived in Iowa. There were a dozen or more "trailer dealers" in Cedar Rapids who told them they didn't know what they were doing and would never make it.

Mobile home dealers were considered disreputable at the time. Dealerships were closed on Sundays and most of the winter. Sellers were interested just in sales, not fitting the customers with the right homes. Existing mobile home retailers were content with the status quo insisting, "We've always done it this way."

"When we first came here, you couldn't get a line of credit because you were a trailer dealer. You had no respect as a businessman," Curt recalls. The ex-military transplants from Missouri challenged head-on the established way factory-built homes were sold in Iowa.

Realizing the need to convince his fellow manufactured housing professionals, as well as the public, bankers and suppliers, that this housing was respectable and safe, Curt Hames became the Vice President of the Iowa Manufactured Housing Association. Later as President and board member of the association he greatly influenced the laws, image and operations of the industry.

What seemed like radical changes back then are now standard for the manufactured housing industry:

• Mobile homes were considered "vehicles" in the early 1970s so dealerships could not be open on Sundays. Curt and Norma worked tirelessly with the Iowa Manufactured Housing Association and the Iowa legislature to allow customers to shop for a home any day they wanted, like they could with realtors.

• As with the "vehicles" problem, mobile homes were required to display license plates in the front window of the home. That was an expense and an eyesore not even the bureaucrats could justify.

• Most mobile home dealers went south for the winter since nobody wanted to look at homes in the cold. Curt and Norma were the first retailer to hook up LP lines, and then natural gas lines, so model homes would be heated.

• Only 12 foot wide mobile homes could be moved on Iowa highways in the early 1970s, even though all the rest of the states allowed 14-wide movement. An editorial on KCRG even showed a cartoon of a 14 foot wide mobile home blowing a little compact car off the road! Again, Curt and the Iowa Association worked with the legislature and Governor Robert Ray signed a law allowing 14 foot movement.

• As factory-built homes got larger, Curt and Norma were on the forefront working with the Iowa DOT and legislature figuring out the best and securest ways to move oversize loads, not just manufactured homes. Today, 16 foot wide manufactured homes are safely moved from factory to dealerships with no issues.

• Mobile homes could only be moved 50 miles a day, so homes moving from factory to dealership then dealership to customer would have to be moved, stopped overnight, moved, stopped overnight, etc. Sometimes it took 3-4 days to go 150 miles! This was also changed with Curt's influence and encouragement.

The Hames display center is no longer located at 640 Marion Blvd. in Marion, Iowa. And instead of 12 foot wide "trailers" with dark wood paneling, you can view beautiful new 3 and 4 bedroom manufactured homes with features like island kitchens, garden tubs, built-in entertainment centers, fireplaces and vaulted ceilings.
---
Loading Conversation