Schult & Hames - It's a Beautiful Thing
November 20, 2013
Complex items like cars, trucks, furniture and appliance are built indoors. So, why would you build something as important as a house out-of-doors?
---
What if cars were built outside, in the weather, one at a time? They'd be expensive, irregular, take longer to build and be prone to weather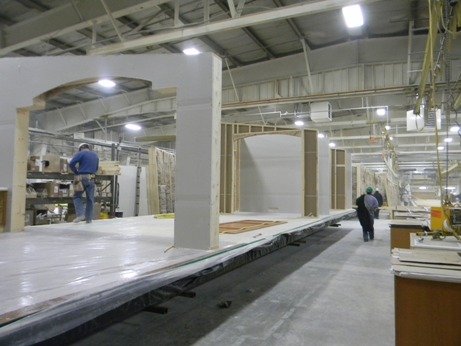 damage. But that's what happens with the typical site-built home that is constructed on a muddy lot out in the open.
Manufactured homes are built inside in a clean construction environment where there's little waste, because materials are ordered and matched to each mobile home built.
Troy Hames (VP Sales) had a chance to visit the Schult Homes factory in Redwood Falls, Minnesota guided by Cory Cellmer of Schult.
Schult Homes – Quality
From the spotlessly clean lunch room to the sturdy craftsmanship of the homes, it's clear to see why Schult is one of the top mobile home manufacturers in the world. "Every detail, even the mitered corners of trim in the house, is placed perfectly," observed Schmidt. Every component is assembled in the Redwood Falls facility. Cabinets are built on-site by experienced Schult craftsmen.
Value
"At Schult, 80% of the cost of a mobile home is materials and 20% is labor, which keeps them affordable for everybody," observed Troy Hames. In a site built home, cost is about 50% materials and 50% labor. All Schult building materials are purchased in bulk for price savings, and stored indoors in a climate-controlled environment.
Employee Focused
From the minute you step in the door, you can see that Schult in Redwood Falls is proudly employee-owned. Well-trained Schult staff work daily on homes, rather than come-and-go subcontractors on a site-built home. Plus, it's safer for employees – there are numerous safety features built into the assembly. Constructing dwellings indoors takes high-wind and weather accident risks out of the equation.
Innovations in Design and Décor
The best part of the tour for Hames and Schmidt was the chance to view Schult's newest models of manufactured homes. And – wow! – what nice homes they are. There's lots of new extras like 9 foot ceilings, drywalled rooms, under counter lights, walk-in closets, maple cabinetry, rolled-edge countertops, farmhouse sinks, and transom windows in bedrooms. And, kudos to Schult for using Amana appliances built right here in Eastern Iowa!
Hames- Your Authorized Schult Retailer
Hames Mobile Homes has been an authorized Schult dealer for many years. "Schult mirrors our reputation for integrity and character in how they treat their customers," said Hames.
To view beautiful Schult model homes for sale, visit our Hames Homes sales center at Grand View in Cedar Rapids. We can place your new Schult home in one of our beautiful Hames Communities, or special order a mobile home with all the extras you want.
Contact us or call us today at (319) 377-4863!
#HomeSweetHames
---
Loading Conversation