Manufactured Homes - Built to Last
July 30, 2020
The myth of the "disposable home" is a thing of the past. Today's manufactured homes last as long as site-built houses.
---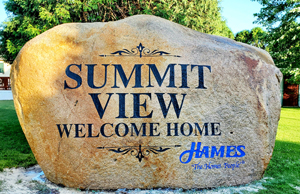 12,000 years ago, the earth was in the middle of an Ice Age. Huge glaciers pressed down from Canada and Minnesota and pushed across Iowa. When the glaciers melted, they left behind many beautiful and unusual boulders (called "erratics") randomly scattered across the Iowa countryside.
One such erratic, within the borders of Hames' Summit View Village, was largely ignored until now. Although it was a huge boulder - six feet high and 8 feet wide above ground - it was hidden by bushes and vegetation.
With some imagination, weed-pulling, and an amazing stone cutter, we were able to transform the rock into a spectacular "WELCOME HOME" sign for Summit View residents to enjoy now and for centuries to come.
But will manufactured homes last for centuries? There's no reason why not. In 1998, Dr. Carol Meeks at the Iowa State University conducted a study[i] and found that modern manufactured homes will last 55.8 years, almost as long as a site built home. In fact, given the same care as other types of homes, mobile and manufactured homes should last forever.[ii]
While we can't say that a Hames manufactured home for sale would last as long as a boulder or a glacier, we can confidently say that they're built with the same materials as site-built homes. Hames homes are created indoors, in climate controlled environments, which results is consistent, solid homes with less construction waste.
Contact Curtis or Clint at Hames Homes today at (319) 377-4863 to view your next home. You'll love the style, affordability and durability of our new and used manufactured and mobile homes for sale. Financing available to qualified buyers.[iii]
#DontCallItaTrailer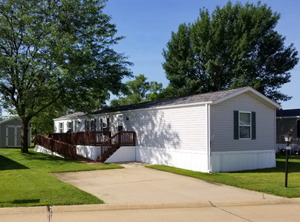 ---
[i] http://www.manufacturedhousing.org/academic-study-abstracts/
[ii] https://www.mhvillage.com/blog/how-long-do-mobile-homes-last-the-life-of-a-mobile-home/
[iii] Through Circle Finance LLC NMLS #366020
---
Loading Conversation