Harry and the Helping Hands
November 5, 2020
There were silver linings to the devastating August 10 derecho storm. With no power, TV or internet, neighbors got to know each other better. At Hames Homes, we got to know our residents better.
---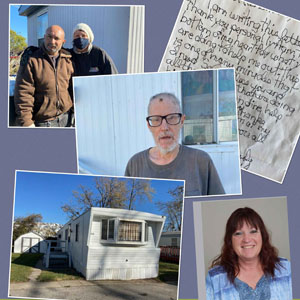 Hames community crews went door to door after the storm, checking on each household. One retired resident "Harry" lives alone in an older mobile home at West Park Village. Hames employee and neighbor, Arnie, discovered that Harry didn't have any running water, and hadn't for some time.
Harry is frail and painfully shy. He's afraid of people, and rarely leaves his home. He's lived in West Park Village since he was 7 years old. Although Harry pays his rent on time every month, he was too embarrassed to let the manager know he didn't have running water.
After the Hames crew found out about Harry's situation, Arnie and Hames Community Coordinator Kelly, as well as Arnie's wife, Maria, gradually befriended him and brought him ice, water, and food. They visited frequently and spoke with him until he was relaxed with them. Harry finally felt comfortable enough to let them come in his home. After years with no water, the inside was a mess.
Hames employees and residents went into action. Arnie donated his time to fix the broken plumbing. Another person donated a microwave. Maria is getting Harry signed up for Medicare, and is helping him get a phone for emergencies. One person gave him money to buy a winter coat. A church brought him food, a refrigerator, and materials to fix his home.
Harry wrote in a thank you note to the church, "This is one of many miracles that I need. So God bless you and all the people there that are doing this to help."
Harry's water was turned on last Saturday. To see clear, clean running water coming out of his kitchen faucet, he was so emotional, he was speechless. Kelly brought cleaning supplies, shampoo and soap. Harry spent the entire weekend cleaning.
"It's how America should work," says Troy Hames, General Manager. "People helping each other and caring for people."
In addition to manufactured homes for sale, Hames Homes has wonderful employees and neighbors that really care. Contact us today or visit us at 5410 Wabash St. SW in Cedar Rapids to see for yourself.

#HomeSweetHames
---
Loading Conversation