Curtis and Clint – The Hames Sales Dream Team
October 23, 2019
We're reluctant to call them "salesmen". More precisely, Curtis and Clint are "connectors" matching you with the mobile home or manufactured home for sale that's right for you.
---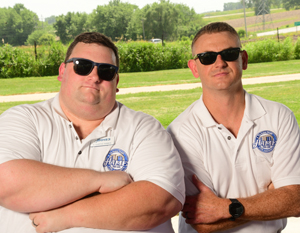 Purchasing a manufactured home for sale is one of the largest investments most people make in their lives. Quality homes in good communities are at the top of every buyers' list. Homebuyers don't need a home that's too big or too small for their needs. Curtis and Clint listen so they hear what's important to you.
Curtis. Clint. They're tough. Throw some hard questions at them. They can handle it.
Do manufactured homes really depreciate? I want to make a good investment.

What's so special about the manufactured housing lifestyle? Is a mobile home park right for me?

Can you help me finance my new mobile home? ​Can I afford the payments?

What's the difference between a trailer court, a mobile home park and a manufactured housing community?

How do people apply to live in Grand View, and Summit View?

Who do I call if I have a problem after I move in?

What about property taxes and insurance on my mobile home?

Can I build a garage?

Is there extra storage available for my RV?

What if I want to sell my mobile home later?
You've got questions. They've got answers.
Call Curtis or Clint today at (319) 377-4863, or by email at sales@hameshomes.com. Visit us at 5410 Wabash St. SW in Cedar Rapids (corner of Wilson Ave. and West Post Road) or online at www.hameshomes.com.
#HomeSweetHames #DontCallItaTrailer
---
Loading Conversation