5 Reasons Why Manufactured Homes are Better than "Tiny Homes"
December 2, 2016
Along with chia pets, mood rings, and macramé hangers, we expect the "tiny home" fad to fade. We're sure that homebuyers will soon realize the best way to live green and comfortable is in a Hames mobile home. Here's why:
---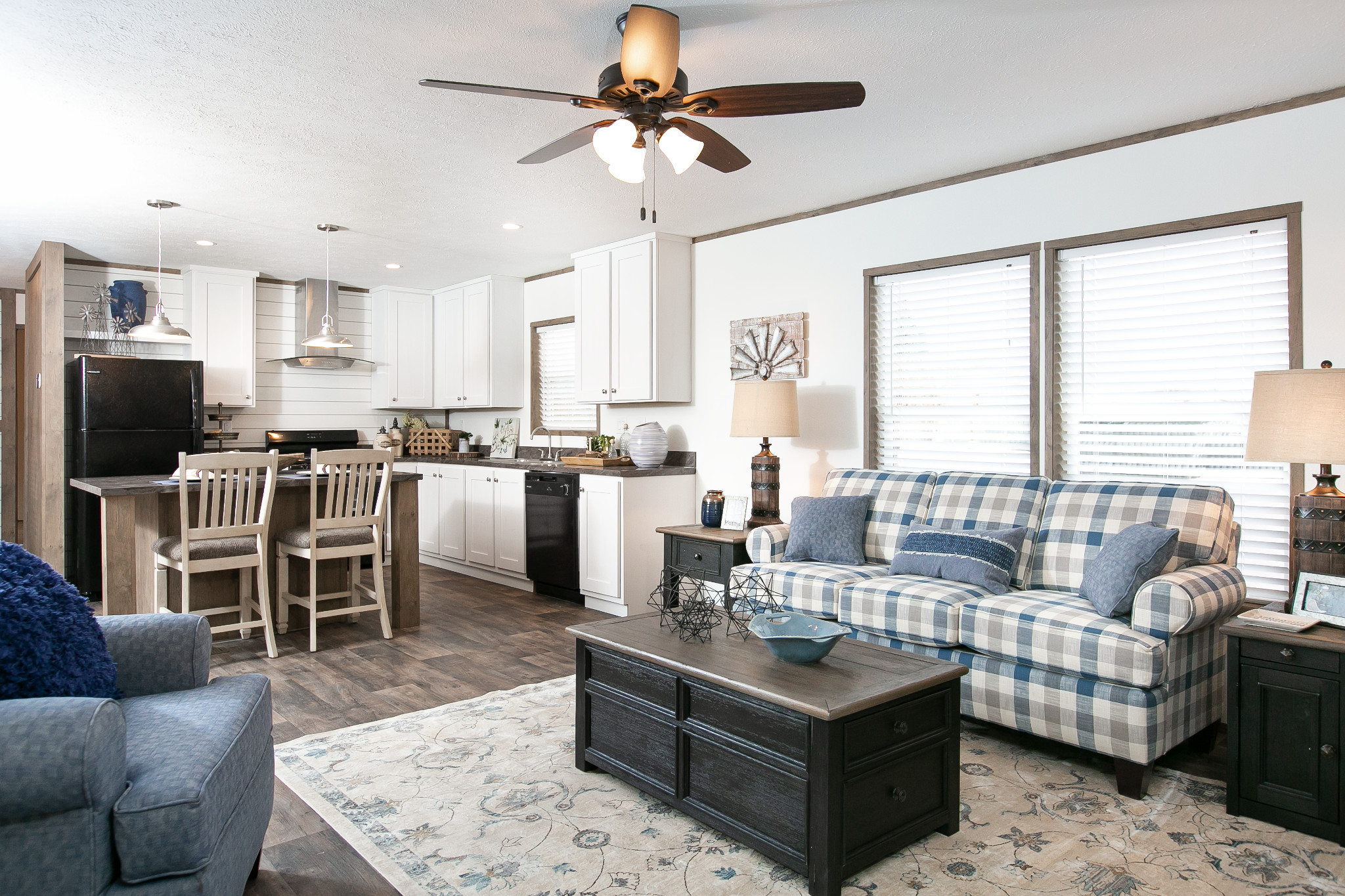 1. Mobile homes cost less per square foot than tiny homes.
The average cost of a tiny home is $23,000[i]. That comes out to about $92 per square foot. Some can cost as much as $266 per square foot![ii] At Hames, we have a brand new 3 bedroom, 2 bathroom home for sale at $48 per square foot (see picture).
If your goal is to be frugal, why would you pay so much more, and get so much less?
2. Mobile Homes are the original "Green Homes"
Because mobile homes (more correctly called "manufactured homes" or "factory-built homes") are built indoors they're greener than custom homes. Weather-proof construction environments mean that materials stay dry, so there's less waste. Standardized designs allows resources to be used more efficiently, so there's less waste. Assembly line manufacture means no driving back and forth to a job site, so less fossil fuel is wasted.
Are you seeing a pattern here?
3. More privacy in a mobile home.
At Hames- The Homes People ® we have mobile homes for sale from 1200 to 2200 square feet. That's cozy compared to the average 2598 square foot site built home, but considerably more spacious than a tiny home at 100 to 400 square feet[iii].
We love our families. But what happens when the kids (and the puppies) get bigger? Do you want to be that close to your teenagers? Do you think your wife appreciates you watching football and munching on potato chips while she's trying to sleep?
Think about it.
4. Cabin Fever[iv]
Tiny home dwellers consider the out-of-doors part of their living space. Here in Iowa, we cherish our summer months, and spend every warm minute outside, too. But in the cold winter months you're stuck inside a lot more. We've only heard of hibernating animals and mushrooms surviving in a small space with limited sunlight for an entire winter.
5. Good neighborhoods.
Hames has attractive, friendly manufactured home communities with lots of amenities and neighbors who care. We have managers on call 24x7 for resident issues, as well as emergency storm shelters. There is off-street parking all Hames mobile home parks in Cedar Rapids. Most home sites are large enough for 1-2 car garage.
Tiny homes are designed to be parked anywhere, but villages for them are rare. And be careful! Zoning regulations are not always friendly to tiny homes.[v]
Think about what you'll miss by not living in a Hames mobile home park – off street parking, friendly neighbors, playgrounds, events for all ages, and help when you need it.
Mobile/manufactured homes have tiny homes beat, hands down. Come and see for yourself! Call us at (319) 377-4863 or contact us online. We have new and used 2, 3 and 4 bedroom mobile homes for sale, most on lots large enough for an optional garage. We'll show you why the manufactured housing lifestyle is the best.
Financing for our mobile homes is available to qualified buyers.
​
#HomeSweetHames
---
[i] http://www.clark.com/6-pros-and-cons-to-living-large-in-a-tiny-house
​
[ii] https://padtinyhouses.com/how-much-does-a-tiny-house-cost/
​
[iii] http://www.clark.com/6-pros-and-cons-to-living-large-in-a-tiny-house
​
[iv] From The Urban Dictionary, "Being stuck indoors for a prolonged period of time during the winter months and suffering from depression caused from a vitamin deficiency caused by a lack of sunlight and sick of being inside with the same people for months on end."
[v] http://www.curbed.com/2016/9/22/13002832/tiny-house-zoning-laws-regulations
​
---
Loading Conversation